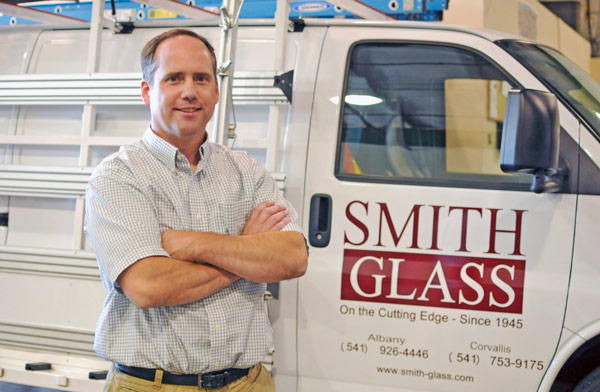 As a third-generation business owner, Bryan Smith fully understands the importance of providing top-notch customer service.
"Smith Glass was opened in 1945 in Albany by my grandfather, Lynn Smith," Bryan says. "My dad, Jim, ran it for more than 35 years after that and didn't fully retire until about 2005 or 2006. I've been here more than 30 years."
You don't stick around so long without a commitment to doing right by customers and solving their problems. Smith Glass is well-known in both Albany and Corvallis, where the Smith family opened a downtown location in 1973, for being the "go-to" place for all your glass needs.
Most of Smith Glass's work is residential shower doors, mirrors and window and door replacements. They also do contract commercial glazing, and you can see the finished results on the downtown Corvallis Elements building, the mostly glass Toyota sales complex, multiple buildings on the HP campus, Hilton Garden Inn, the new Marriott, the "Jax" building on 1st Street next to the river, the Corvallis Clinic Building near Kings & Walnut, Samaritan Cancer Center, Boulder Falls Inn in Lebanon, Samaritan Medical Office Building in Lebanon, historic storefront renovations on 1st Street in Albany, and many others.
Both Smith Glass locations stock:
all types of clear and patterned glass
mirrors
screen repair materials
acrylic sheets (also known as "Plexiglas")
window and patio door replacement hardware
laminated glass for farm equipment and industrial uses
high temperature glass for wood stoves or fireplaces
Smith Glass can cut all of these materials to size on site, and can also drill holes in glass for hobby projects like wine bottles, light fixtures and more.
You can also order custom table or desk tops with polished edges, beveled edge mirrors, new window screens, glass white boards for educational or business purposes, and fire rated glass for any project, delivered in just a few days.
Smith Glass currently employs 17 Mid-Valley residents.