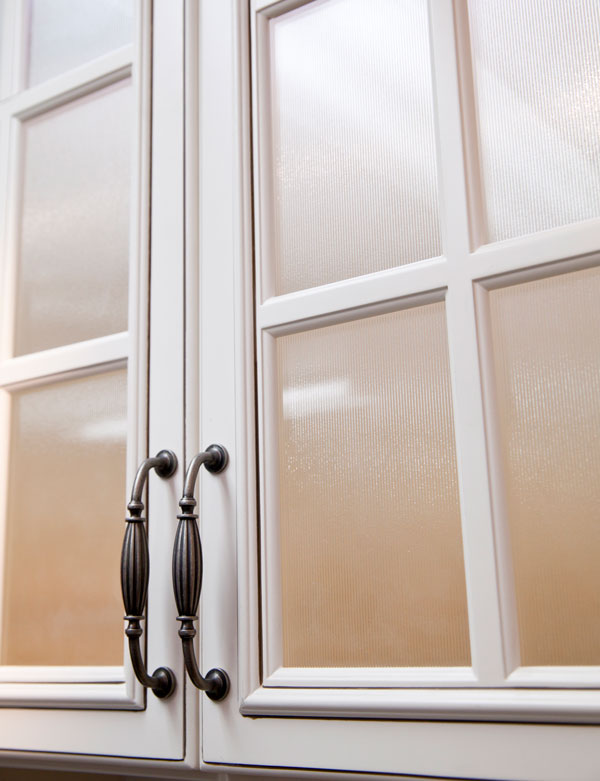 Decorative glass adds a stylish and cultured look to any home. There are many types of frosted or patterned glass that will give your home a custom look and set it apart from the rest of the neighborhood.
The various textures and patterns of decorative glass are especially suited to four areas in your home. First, if you're building or remodeling, your window manufacturer will have several different patterns available for use in the bathroom windows besides the standard "pebbly" obscure. Your privacy will be maintained, and you'll add a touch of stylishness.
The kitchen cabinets are a great place to add decorative glass. Reeded patterns provide a craftsman look whereas seeded patterns add a more modern design. Depending on the construction of your current cabinets, this may be a simple DIY project. Raised panels in some cabinets are removable. Swapping the panel with a custom cut piece of decorative glass creates a sophisticated upgrade to your kitchen.
Another area to consider adding decorative glass is at the front door. Some front doors have a similar removable raised panel that can be exchanged for decorative glass. This is a great way to add instant curb appeal to your home.
Lately, decorative glass backsplashes are becoming popular. Instead of tile or laminate behind the sink in your bathroom, consider using glass. It's very durable and easy to clean. And, there are many warm and vibrant patterns and textures to choose from that will create a sophisticated look.
To explore the possibilities and see a variety of decorative glass options, visit us at one of our showrooms in Albany or Corvallis. You can also get more information on our Residential Glass page.