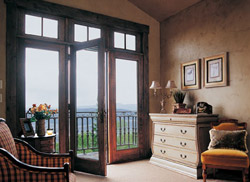 French doors bring in natural light and provide a functional and traditional elegance to any home.  And used on the inside, they make a great transition between rooms by providing a sense of privacy yet maintaining the feeling of openness.  If you're considering adding French doors there are a few things to consider.
French doors have 2 panels that either swing in or swing out. The arrangement of your furniture and the layout of your room will play a large role in determining which style works best. If you have chairs or sofas in the path of travel then an out-swing door would be a better choice. However, both doors don't have to open at the same time. A door with a fixed panel on 1 side will still provide the traditional look of a French door and may allow the door to swing in.
In the past, exterior French doors were notoriously poor when it came to weatherization and security. However, today's newer doors have multiple areas of weatherstripping and usually come with insulated glass so they are as energy efficient as a sliding patio door. Keep in mind, unless you have an awning or significant overhang, in-swing doors have the potential to bring moisture into the home when opened during rainy weather. And, for security, most doors come with a "three-point lock" with rods that penetrate the head and sill as well as a deadbolt that locks both panels together. For warmer days screens are available that mount to the jambs and pull out like a mini blind. You can open the doors and still keep the bugs away!
So, if you have a deck or garden area you love to visit on warm mornings or you need a spacious entry for parties, or if you simply want to create a quiet interior space for reading or study, French doors may be for you.