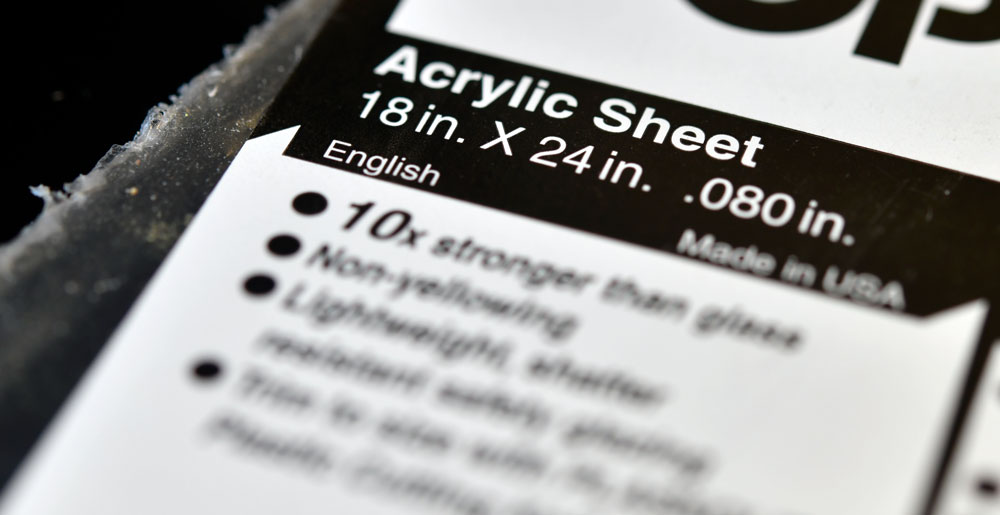 Acrylic sheets are an excellent alternative to glass in certain situations. Acrylic is sometimes known by the brand names Plexiglas, Lucite, or Acrylite. Polycarbonate is a heavier, stronger version of the typical acrylic sheet and is often called by the brand name Lexan. There are several applications where acrylic or polycarbonate may be a better choice than glass.
Impact resistance is one of the main advantages of acrylic. In most cases it qualifies by code as safety glazing for hazardous locations like doors or sidelites. Areas like playhouses, greenhouses, or sheds are excellent uses for acrylic.
It also weighs less than glass making it easier to handle and transport, especially if you have a large sheet. It is very easy to load an entire 4'0" x 8'0" acrylic sheet safely into the bed of a pickup. You will definitely not be successful doing this with glass. As a side note, polycarbonate is increasingly popular for bullet resistant applications for its lighter weight and lower cost when compared to glass in these situations.
Acrylic is great for home projects because it can be fabricated much like wood. Table saws, jigsaws, and standard wood drill bits can all be used to shape and assemble projects. Special care needs to be taken to keep it from cracking but if you practice drilling or cutting first with some scrap, you should have good results. Acrylic glue or cement is also available for joining corners and works like a solvent to melt the acrylic together. Get some advice from a professional if you plan to go this route. Lining the pieces up together prior to gluing them is a key.
The main drawback to acrylic is that it scratches easily. Leave the paper masking on while doing any fabrication and until you are ready to install it. Plastic cleaners are available that will help minimize scratching but rubbing a soft cloth to remove dust will leave fine scratches. For these reasons, glass still works better for most pictures frames and display cases.
Stop by our Corvallis or Albany showrooms or give us a call with any questions regarding acrylic sheet. We would love to hear from you!