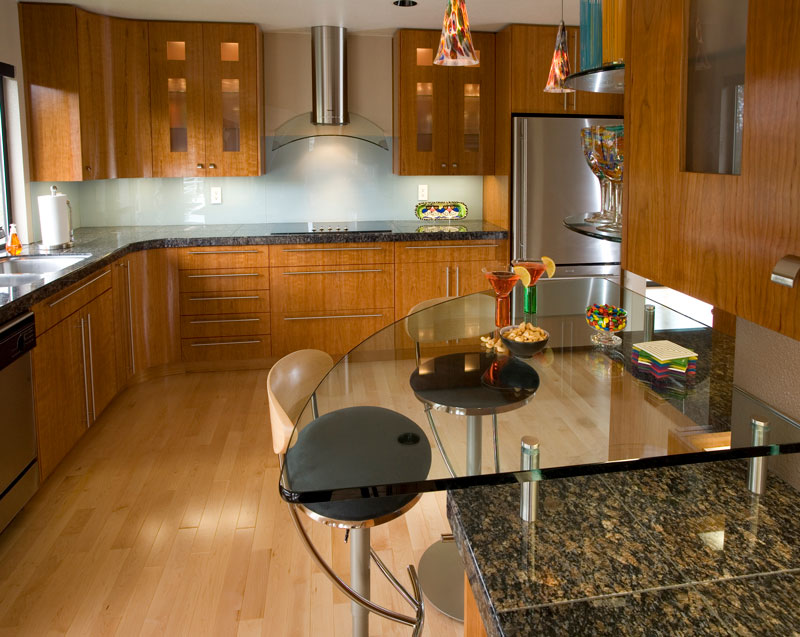 Glass countertops are becoming increasingly popular in today's kitchen designs. They are more durable than you might think and have some unique advantages over typical countertop materials like granite or solid surface. If you are contemplating a kitchen (or bath) remodel, here are a few considerations regarding glass countertops.
Glass isn't as porous as those other countertop materials, so every day maintenance is a breeze. It can be easily cleaned and is more resistant to stains than granite. Most glass countertops are made from tempered safety glass which means they can withstand the heat from pots taken directly from the stove or oven without risking breakage. Although a hot pad or trivet is recommended to prevent scratches.
The thickness of the glass required will vary depending on the size of your countertop and how you plan to use it. If you are expecting to set dishes and pans on it regularly, you'll want to use a larger thickness than you would for a small bar area.
In countertop applications, glass is mounted on small standoffs or pedestals that hold it a few inches above the surface of the counter. This allows for great design flexibility. Textured or back painted glass is highly decorative as well as extremely functional. Add LED lighting at the edge or under the glass and you've got a sleek, modern look you can't get from granite.
Glass can be made into many of the same shapes as granite or marble with smooth, rounded corners and polished edges. Of course, glass is susceptible to breakage so it may not be suitable for everyday use around children, teens, or in other high traffic areas. But you should consider it for any show-stopping kitchen or bath design.
Feel free to stop by our Corvallis or Albany showrooms or give us a call with any questions regarding glass countertops. We would love to hear from you!