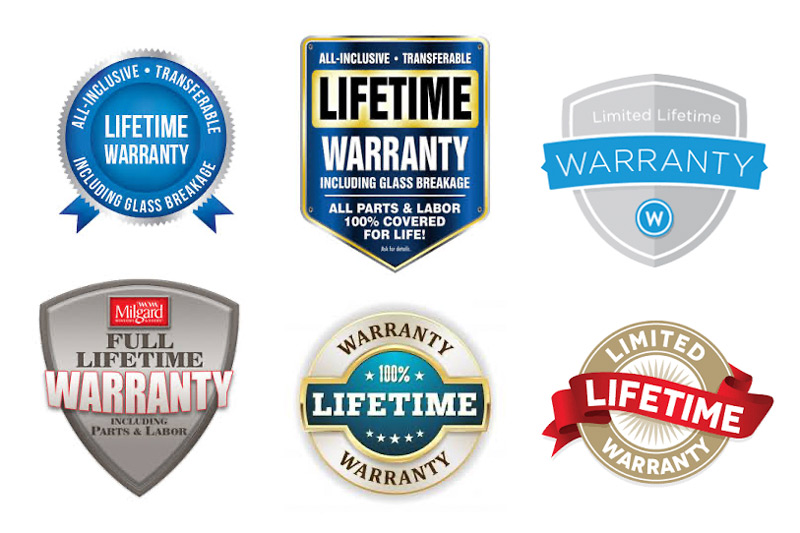 If you purchased a new home or simply replaced your windows within the last 20 years, you probably received a lifetime warranty on your vinyl windows. These warranties can vary between manufacturers and the question always arises as to who's "lifetime" we are discussing. Is it your lifetime, your window manufacturer's lifetime, or your home's lifetime? In truth, it may be a combination of all three depending on your circumstances.
Most vinyl window companies will guarantee their windows for as long as you own them against warping, peeling, or twisting of the frames over time. If the windows are installed correctly, these issues rarely come up. A more common occurrence is moisture developing between the panes. Repairing this requires the insulated glass unit be replaced. Most manufacturers in the Northwest include this under their lifetime warranty. Which means you would contact the manufacturer, give them some information about the age of your window, it's size and configuration, and then someone from their service department schedules an appointment to do the replacement. Hint: Look for the gold AAMA sticker on your window to determine the manufacturer.
Calling your builder or window replacement contractor is also a great place to start. Many local companies will go the extra mile to help get your warranty started. Keep in mind, they are merely the dealer, so they aren't the ones providing the warranty. But in the interest of long-term customer satisfaction, it is very common for them to either start the process themselves or provide contact information to get you headed in the right direction.
A few items are not included in the lifetime warranty. For instance, damage caused by abuse or acts of God are not covered. Also, small parts like window latches and screens are typically not covered either. However, these items are usually easily and inexpensively repaired. While it's true that lifetime warranties are part of the marketing for the windows, they are an important and useful tool for the overall maintenance of your home.