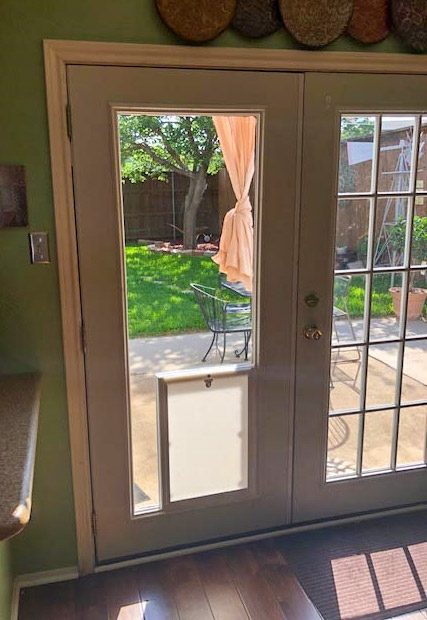 We all love our pets! Not only do they offer companionship, but studies have shown that dog owners live longer than those who don't own dogs. While they may be "man's best friend", hauling ourselves from the couch to let our dog into the backyard is inconvenient, to say the least. Years ago, it was popular to cut a hole in an existing wood swinging door and install a small dog door near the bottom. However, now most homes have a sliding glass patio door leading to the backyard. Obviously, it would be impossible to cut a hole in one of those!
Some good news – pet doors are available that install directly into the glass panel of the sliding portion of your door (no cutting required!). That makes the installation of the pet door as simple as changing the glass. The flaps the pet goes through have a magnetic strip to keep them closed when not in use and they are lockable so unwanted critters can't use the door overnight. The glass panels around the pet door itself are double pane glass with Low E coating just like your existing patio door so there is very little loss in energy efficiency. And you won't get a blast of cold air from sliding open your entire door each time Fido needs to go out.
The installation process is straightforward. Typically, a glass company will come to your home to measure the existing glass and help you take some critical dimensions of your pet so the door opening is sized correctly. Once the new glass arrives, replacement of the panel takes about an hour. After that, your dog can come and go as they please. It's that simple.