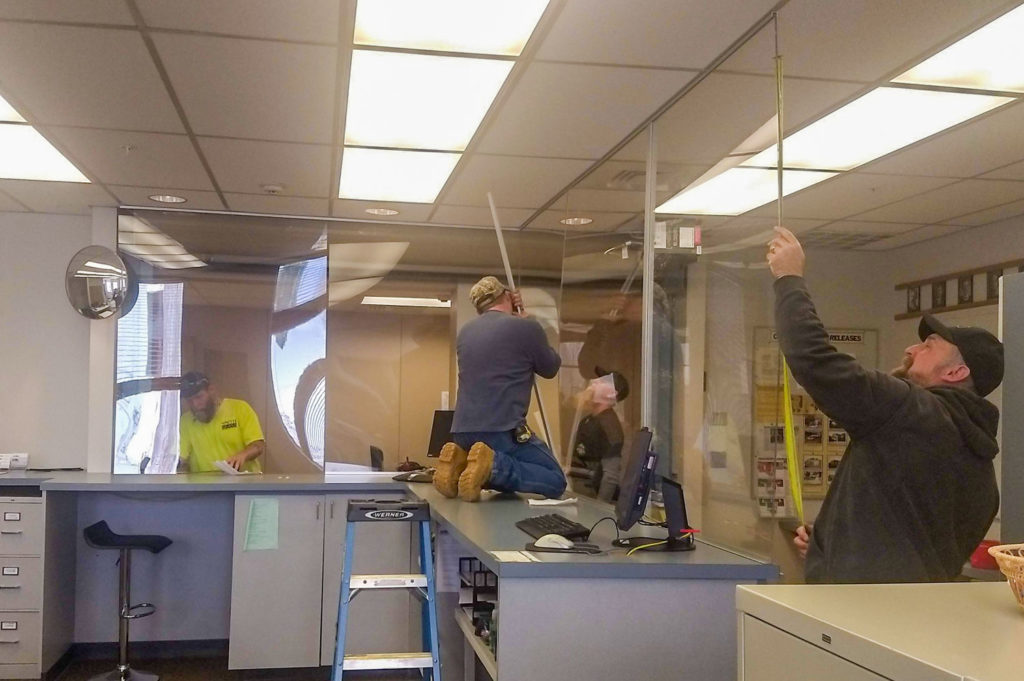 The coronavirus pandemic has led to an explosion of protective health barrier installations. These are the acrylic barriers at check stands and pharmacies around the area, usually made of plastic, that provide a clear, physical barrier between workers and customers.
At Smith Glass, we can custom build these to fit various workspaces. Alternatively, we have the acrylic available in stock sheets for companies that want to build them themselves. The shields are usually made from 1/8 or ¼" clear acrylic and use a variety of materials to keep them in place. Most are free standing on a countertop and have a slot near the bottom to pass merchandise or papers with a protected hole nearer the top for voice transmission. Others are simply hung from a soffit and leave space below to exchange products while separating the faces of the customers and workers.
Fabricating acrylic is much like working with wood. You can use the same tools for cutting and drilling so building these yourself only requires some basic skills. Essentially, there are two kinds of materials used for the barriers, acrylic or polycarbonate. Acrylic is generally less expensive, softer, and easier to work with. Most of the barriers you see are made from acrylic. Polycarbonate (think "Lexan") is much harder to break and more scratch resistant. It also holds up to UV rays better than regular acrylic so if your application is outdoors, it won't yellow or become brittle as quickly.
The nature of business transactions has changed permanently due to COVID-19. Soon these protective barriers will be standard at all types of restaurants, banks, car dealerships, offices, or anywhere there is the potential for face-to-face communication. For more information or help designing a protective health barrier contact Smith Glass in Albany or Corvallis.