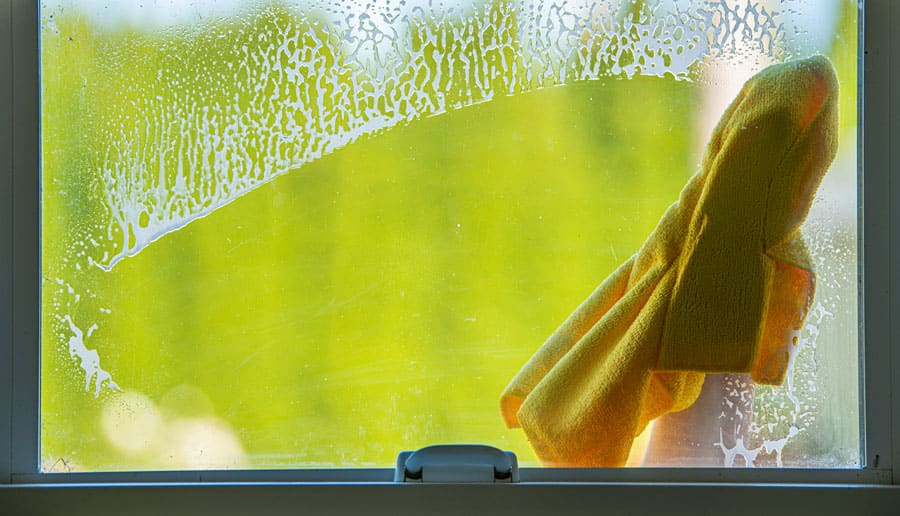 Sunlight streaming through a dirty window dulls even the brightest day. However, with a little elbow grease and the right products, you can get your windows cleaned and streak-free in no time. Here are a few tips.
On the inside of your house, start with the frame itself. The tracks where the windows slide often collect dirt and mildew. A sponge with warm water and soap will clean them quickly and a light coat of car polish usually makes them slide more easily. For the glass, a commercial cleaner will probably work the best. Be sure to cover or remove anything on the windowsills to prevent damage from overspray. Paper towels or old cotton rags will leave lint on your newly cleaned windows. Instead, invest in a microfiber cloth or good chamois cloth. Both work well to remove the grime and prevent streaks.
Once the inside is gleaming, it's time to tackle the outside. Remove the screens and lightly spray them with a hose. Warm, soapy water works best to clean them as well. Use care not to tear the screen since fiberglass mesh fabric can get brittle with age. Wipe the glass and window frame with a wet rag to remove encrusted dirt before using your commercial cleaner. It's tempting to spray the window with the hose, but the pressure and large amount of water may overwhelm the weep system of the windows causing them to leak to the inside which is why it is better to do this work by hand. After that, apply the commercial cleaner and wipe away with the microfiber cloth.
Second floor windows present another obstacle. Some newer windows tilt in to make cleaning easier. If your windows don't have this feature, with a little practice, you may find a sponge and squeegee on a long handle will work equally as well.